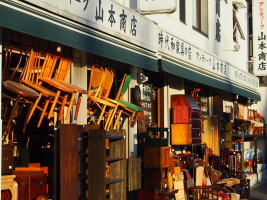 Antique Yamamoto Shoten was established in Kitazawa, Setagaya City, Tokyo in 1945.
We run our store each day in order to allow our customers to comfortably and easily enjoy lifestyle antiques.
The store has a selection of 1,500 to 2,000 products at any time.
Products awaiting repair line the adjacent workshop, until they are each carefully repaired by skilled craftspeople.
The 1st, 2nd and basement floors of the shop are filled with furniture that breathes new life into the space, all waiting to be met by the right customer for an affordable price.
Shop Information

Hours: 11:00-19:00
Closed: Mondays
*Open for business on holidays and closed on the following Tuesday.
TEL&FAX  (+81) 03-3468-0853 or 03-3468-0854
ADDRESS 5-6-3 Kitazawa, Setagaya-ku, Tokyo, JAPAN
POSTAL CODE  155-0031
E-MAIL 1945@antique-yamamoto.co.jp


Access:

By train:
*An approximately 10 minute walk from Shimo-kitazawa Station (Keio Inokashira Line/Odakyu Line)
* An approximately 6 minute walk from Higashi-Kitazawa Station (Odakyu Line)
* An approximately 8 minute walk from Sasazuka Station (Keio Line/Toei Shinjuku Line)

By car:
Adjacent to the store, 3 cars of customer parking lot is available.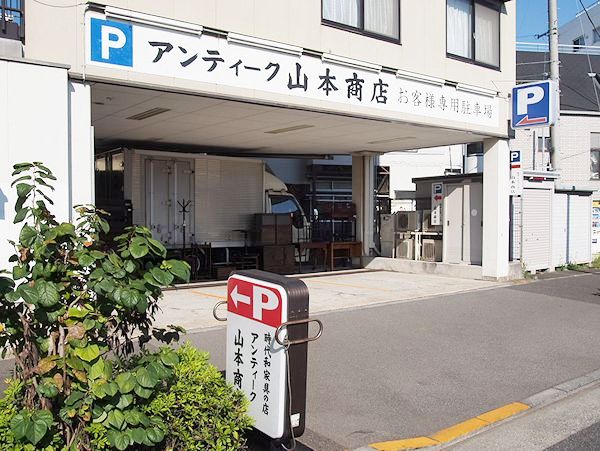 *For customers arriving via Kannana Dori Ave.
Turn toward Shibuya at the Ohara 2 Chome intersection(Inokashira Dori Ave.). The store will be located on the left approximately 700 m after the turn.
*For customers arriving via Yamate Dori Ave.
Turn toward Kichijoji at the Tomigaya intersection. Then proceed straight through the Oyama intersection (Nakano Dori Ave.) and the store will be located on the right approximately 250 m past the intersection.
Purchase Conditions (Items required by the Specified Commercial Transaction Act)
company name

Antique Yamamoto Shoten Co., Ltd.

Representative

Akihiro Yamamoto

address

5-6-3 Kitazawa, Setagaya-ku, Tokyo,
155-0031

Contact Information

TEL. 03-3468-0853 FAX. 03-3468-0853
e-mail. 1945@antique-yamamoto.co.jp Inquiry form

Sales Prices

All displayed sales price amounts include consumption tax in Japan.

Products

We attempt to describe production condition in as much detail as possible through text and images, however not all wear and tear from age and small imperfections which in no way impair the use of the products may be described.
Our company repairs the products we sell in our own workshop in order to make sure they are easy and comfortable to use for our customers.
Please note that actual product colors may differ slightly from those in product images viewed on a screen.
All customers should understand these special circumstances and characteristics of very old and long used products like the antique products we sell.
If you have any questions, please feel free to contact us using the above contact information.

Shipping

*Products can only be shipped within Japan.
*Products are shipped via Seino Super Express Co.,Ltd. shipping service, and are delivered package to the front door of your home. Delivery dates can be specified (dates only, not times).
*Customers who wish to have products placed or installed upon delivery should contact our shop for details.
*Our shop may be able to directly deliver some products depending on the products and delivery destinations.

Shipping Costs

Shipping costs are not included in product prices. Shipping costs must be paid upon delivery of the products. Shipping costs will differ depending on the size, packaging and destination of purchased products.

Payment Methods

[Bank Transfer]
Make bank transfer payments to:
Mitsui Sumitomo Bank Shimokitazawa Branch (Branch No. 835) Futsu (Regular Deposit Account) Account No. 1487485 Antique Yamamoto Shoten Co., Ltd.
[Credit Card]
We accept VISA, MasterCard, JCB, American Express, UC, NICOS, and Diners cards.


Product Shipping

Normally, it will be shipped within 3-7 days after the payment is confirmed.
 

Returns

*We do not accept returns on products which are damaged due to customer negligence, or products which are modified by customers.
*Returns and cancellations are only accepted within 7 days of the purchase of a product.
*Customers will be responsible for payment of any shipping fees for product returns.
---
Privacy Policy
Antique Yamamoto Shoten Co., Ltd. (Hereinafter "Our Store") strictly abides by all laws and related regulations on personal information and makes all efforts to ensure the protection of important customer personal information.
Collection of Personal Information
Our Store may collect personal information as required in the following circumstances:
When an inquiry is received
When applying for services from Our Store
---
Usage of Personal Information
Personal information collected by Our Store from customers is used for the following purposes.
In order to contact customers
In order to respond to inquiries from customers
In order to provide services to customers
---
Disclosure, Correction, etc. of Personal Information
Our store will comply accordingly when requested by a customer to disclose, correct, delete, etc. that customer's own personal information.
---
Inquiries Related to Protection of Personal Information
TEL.03-3468-0853 FAX.03-3468-0853
Inquiry form e-mail. 1945@antique-yamamoto.co.jp
Akihiro Yamamoto, Representative, Antique Yamamoto Shoten
---